Animal Radio
®
Book Club
Book Reviews
---
---






(rated 5 and 1/2 out of 5 paws)
Holy Cow!: Doggerel, Catnaps, Scapegoats, Foxtrots, and Horse Feathers—Splendid Animal Words and Phrases by Boze Hadleigh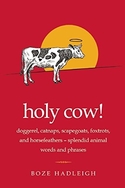 Paperback: 320 pages
Publisher: Skyhorse Publishing
ISBN: 978-1632205575
We all say them – animal words and phrases to describe things. But did you ever stop and wonder about how they started? For example:
There's More Than One Way To Skin A Cat: This originally started out as "There's more than one way to skin a Catfish," because they have very tough skin. Then someone left off the word fish, and Boze states, "It's been bugging us cat lovers ever since!"
Why The Birds And The Bees: This is a very sanitary way of semi-explaining sex to children. Especially at springtime, when both are easily seen - bees buzzing and pollinating and birds laying eggs and raising their young. Previously the two were never mentioned together. Then someone said it together and it stuck.
Buck Naked: Buck-naked is said to derive from the related words buck and buff; the color of buckskin and supposedly the pale tan color of European skin.
Not only does this book include sayings and their originations, Boze Hadleigh has also included information on things like why cats usually eat sitting down and dogs eat standing up. I'm not going to give you the answer to this one, you will have to get a copy of the book and find out for yourself!
This is one of the books that you can just pick up and started reading from anywhere in the book. Just think, if you've ever had problems talking to other people at gatherings, you will now have something interesting to say and can even become the life of the party! Okay that might be a little strong, but I'm sure you can find someone who will be interested in learning about these sayings as much as you do!
http://www.skyhorsepublishing.com
Reviewed by Animal Radio® Co-Host Judy Francis
---




(rated 4 out of 5 paws)
The Mountaintop School For Dogs and Other Second Chances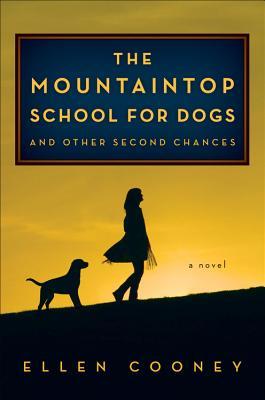 Hardcover: 304 pages
Publisher: Houghton Mifflin Harcourt
ISBN: 978-0544236157
I am usually already sold on any book that has the word "Dog" in the title. So, it wasn't surprising that I found myself reading this novel.
The book is about two women and a pack of dogs. Evie is a young woman who seems lost and is looking for a sanctuary for herself and ends up at the Sanctuary for Dogs, which is an old ski lodge at the top of a mountain. Evie pretends she understands dogs to gain entry, which is not true, so she is on her own and has to learn fast. Mrs. Auberchon is a stubborn woman who runs the school, who doesn't seem to know she is lost.
We always hear about people who rescue dogs, but if you really think about it, it is the dogs that rescue us. Even though some dogs have had a rough life, they are more likely to let go of the past and move forward to the present. Just by watching them, we can learn how to do the same thing. We just have to be willing to be like them and open up and try again, because there are many similarities between dogs and us when it comes to how we react to things and people in our lives. The only thing I would change about the book would be the ending!
http://www.ellencooney.com/school-for-dogs
Reviewed by Animal Radio® Co-Host Judy Francis
---




(rated 3 and 1/2 out of 5 paws)
My Best Little Buddy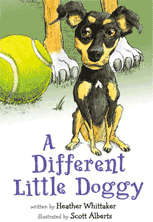 Hardcover: 28 pages
Publisher: Pen-Tech Professional, LLC
ISBN: 978-0982096215
I normally don't read nor review children's books, but this one got me by the cover! I just love the dog on the front and the illustrations throughout the book. I know it is a children's book, but you can't tell me that dog lovers of all ages wouldn't pick this book up!
The story is about a dog, Taz, who is different. It sends a message to children that no matter how different you are, or how different others are, that it can actually be a good thing and that you should just be yourself and accept others as they are.
I believe it also teaches children compassion towards dogs and other creatures and that we shouldn't feel sad for them. Just because they are different doesn't mean they can't lead a full, happy and productive life!
http://www.adifferentlittledoggy.com
Reviewed by Animal Radio® Co-Host Judy Francis
---





(rated 4 and 1/2 out of 5 paws)
My Best Little Buddy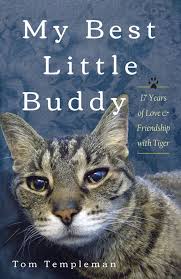 Paperback: 114 pages
Publisher: Tom Templeman
ISBN: 978-0-9895267-0-8
There was something about the cover of this book that first caught my attention. It is a picture of Tiger, a cat, who was owned by Tom Templeman. There is nothing extraordinary about Tiger. He is a grey, striped tabby. But, when you look into his eyes, you see it! There is something definitely there that catches your attention and draws you in. Perhaps Tiger is one of those old souls.
Many cats have owned me over the years and I just had to read this book to find out more about Tiger. The book is an easy read and I finished it in just two sittings (okay, I am a voracious reader!).
Tiger and his sister Sundae were stray kittens and are two of the lucky ones. Tom and his wife found the cats one day huddled together in a parking lot. Now, most people would have just looked the other way, got into their car and drove off. In fact, it seems a few people did just this. But Tom and his wife took their time and eventually gained the trust of these two kittens and took them home.
My Best Little Buddy tells the story of Tiger and his Sister Sundae over the many years of their lives. Like anyone who owns animals for their lifetime, there are usually many changes with moving and new jobs, where everyone needs to adjust.
Tom shares his story of these two kittens and their lives as they all grow just a little older together. It's about life and loss. Tom originally started out writing a song (which is also included in the book) but realized that he had so much more to say about his life with Tiger. Included are also great pictures of everyone.
I don't want to give any more away. You'll just have to read it for yourself. But if you're are cat owner, you will prboably see yourself and your cat in these pages.
I originally said that these kittens were the lucky ones, but after reading Tom's story, I am not so sure. It seems that everyone won in this case! Sometimes people or pets come into our lives at just the right time for a reason!
20% of the profits from all sales of My Best Little Buddy will benefit Nashville Cat Rescue.
http://www.mybestlittlebuddy.com
Reviewed by Animal Radio® Co-Host Judy Francis
---





(rated 5 out of 5 paws)
Big Book Of Why: Crazy, Cool & Outrageous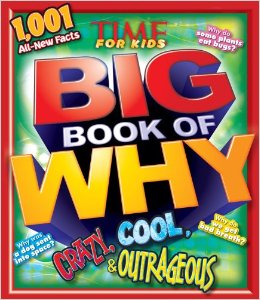 Hardcover: 192 pages
Publisher: Time For Kids
ISBN: 978-1618930774
We all want to look good in front of our children. However, their little minds are constantly taking in the world around them and they have endless questions. Most of them we can answer quite easily. However, there are those that even stump us!
Now, with the Big Book of Why: Crazy, Cool & Outrageous, we can competently answer them (without making the answers up). We will now know ourselves why the oceans are blue, why we burp or why tigers have stripes.
Even if you don't have children, you will find this book fascinating and will come away with a wealth of knowledge that will prepare you for your future children and maybe even Jeopardy, even if you just sit in front of the television to watch it.
Or better yet, give the book to the inquisitive child and watch their little minds soak up all of the crazy, cool & outrageous facts.
However, when it comes to answering the age-old question, "Where do babies come from?" I'm afraid you're on your own, as this book won't provide that answer!
http://www.timeforkids.com/store/books
Reviewed by Animal Radio® Co-Host Judy Francis
---




(rated 4 and out of 5 paws)
A Dog Walks Into A Nursing Home - Lessons In The Good Life From An Unlikely Teacher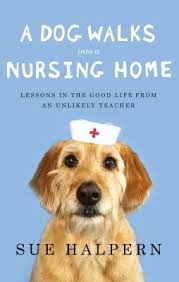 Paperback: 310 pages
Publisher: Riverhead Books
ISBN: 978-1-59448-720-0
Funny, moving, and profound, A Dog Walks into a Nursing Home is the story of how one virtuous - that is to say, faithful, charitable, loving, and sometimes prudent - mutt showed great hope, fortitude, and restraint as she taught a well-meaning woman the essence and pleasures of the good life.

Pransky was bored: she needed a job. And so Sue Halpern decided to give herself and her underoccupied Labradoodle a new lease on life by getting the two of them certified as a therapy-dog team. Pransky proved to be not only a terrific therapist, smart and instinctively compassionate, but an unerring moral compass as well. in the unlikely-sounding arena of a public nursing home, she led her teammate into a series of encounters with the residents that revealed depths of warmth, humor, and insight Halpern hadn't expected. Little by little, their adventures expanded and illuminated Halpern's sense of what goodness is and does - how acts of kindness transform the giver as well as the given-to.

Each chapter is dedicated to a virtue we would all do well to incorporate into our daily lives.
Reviewed by Animal Radio® Dream Team Member Joy Turner, Talk With Your Animals
---




(rated 3 and 1/2 out of 5 paws)
You Lucky Dog!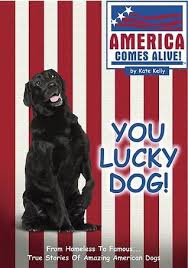 Paperback: 113 pages
Publisher: ACA Publishing
ISBN: 978-0-9892106-0-7
You Lucky Dog! is an uplifting compilation of true stories about homeless dogs that somehow survived and thrived to become local or national celebrities.

One such story features Bum, a steamship stowaway, who hops off a ship in San Diego in 1886 and makes the town his home. There's Terry, the dog who played Toto in The Wizard of Oz, who was given away by his first owners who found him disobedient. And famous Benji was a shelter dog who became a star.

The book also contains unforgettable stories about America's First Dogs (and a First Fish and a First Raccoon) to give a rounded view of our dogs' place in American history. Kate captures their very souls in moving descriptions of the devotion, loyalty and trust that no only changed the fortune of these very special dogs, but also the lives of their human caregivers.

Visit www.americacomesalive.com to read more stories about American dogs.
http://www.americacomesalive.com
Reviewed by Animal Radio® Dream Team Member Joy Turner, Talk With Your Animals
---



(rated 3 out of 5 paws)
Sandy and Sandy A Tail Of Love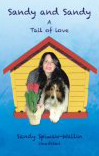 Paperback: 173 pages
Publisher: Author House
ISBN: 978-1-4772-6096-8
Sandy Spiwak-Wallin has always been an animal lover, but when she and her husband inherited Sandy The Sheltie, not only did it turn her family's life around but she was faced with daily challenges on how to handle a dog with every behavioral problem in the book.

It taught her and her family to never give up on a difficult dog and how rewarding it can be for all.
Reviewed by Animal Radio® Dream Team Member Joy Turner, Talk With Your Animals
---




(rated 3 and 1/2 out of 5 paws)
You're My Dawg, Dog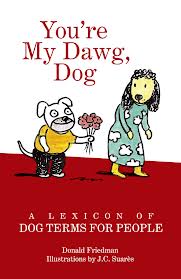 Hardcover: 96 pages
Publisher: Welcome Books
ISBN: 978-1599621234
You may not have paid much attention, but you probably have found yourself saying at one time or another a familiar phrase such as, "It's a Dog-Eat-Dog" World," or that you were "Sick As A Dog," maybe even that a person is a "Lucky Dog." But did you ever stop to think about what those terms really mean or where they originated?
In Donald Friedman's book, "You're My Dawg, Dog" you will find the explanations of dog terms, idioms, proverbs and metaphors, along with great illustrations. Some of these you may frequently use, others you may see for the first time. There are also quotes from Black Sabbath to Shakespeare to Rihanna.
Dogs are man's best friend, so it's no wonder many of our common phrases include them.
Pick up a copy and see how many of these phrases you use, and who knows, you might even "Teach A Dog A New Trick" – that would be you learning new phrases!
Reviewed by Animal Radio® Co-Host Judy Francis

---





(rated 5 out of 5 paws)
Cleo: The Cat Who Mended A Family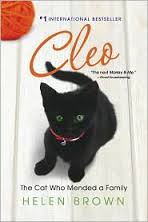 Paperback: 272 pages
Publisher: Citadel Press
ISBN: 978-0806533032
It's hard to imagine losing a child. It's even harder receiving and caring for a kitten he selected prior to his death, which you had forgotten about.
When Helen Brown's 9-year-old son, Sam, was killed in a tragic accident, she forgot about a kitten he had selected and was waiting for it to be old enough to be adopted. She wasn't prepared when the kitten was delivered a couple of weeks later, but decided to take in the kitten for her other son, 6-year-old Rob.
The cat was named Cleo, and seemed to understand the family was going through severe emotional times. He was a healing source for everyone as they put their lives back together. Through no fault of his, Helen and her husband divorced, but Cleo was always with her. In fact, Cleo selected her second husband and was there for her new family and the births of her two daughters. When Cleo passed away, she was almost 24-years-old.
Cats & Daughters: They Don't Always Come When Called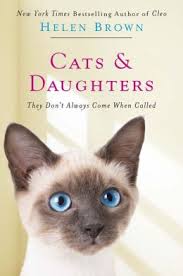 Paperback: 304 pages
Publisher: Citadel Press
ISBN: 978-0806536064
Cats & Daughters takes over where Cleo leaves off. After the death of Cleo, Helen swore she would never get another cat again. But, life happens when you're busy making plans, and that's when Jonah, a so-called Siamese, entered Helen's life. By then, Helen had two daughters and quickly learned that felines and rebellious daughters have a lot in common!
Once again, Jonah the cat helps the family over the years during once crisis after another. Through Helen's breast cancer scare, as well as well as her daughter's threat to become a Buddhist in war-torn Sri Lanka.
Both these books are page-turners. Even if you don't own any cats (or no cats own you!) you will enjoy reading about Helen's journey and about how our animals can be a source of comfort during our most trying times.
Be sure to read them in order: Cleo first and then Cats & Daughters (They Don't Always Come When Called). You won't be able to put them down until your finished!
Reviewed by Animal Radio® Co-Host Judy Francis
---




(rated 4 out of 5 paws)
For The Love Of The Horse Volume IV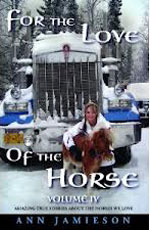 Paperback: 193 pages
Publisher: Self
ISBN: 978-0-578-10651-9
"For The Love Of The Horse Volume IV" by Ann Jamieson is another in her series of inspiring tales about the bond between animals and their humans. This particular book focuses on the bond with horses and how that bond has impacted the lives of humans. There are some amazing stories that will move you to tears and create that wonderful uplifted feeling in your heart.
"For The Love Of The Horse" encompasses a wide variety of breeds and disciplines and is sure to please everyone, even if you don't consider yourself a "horse person." There is one difference in this book from other similar books. Instead of having stories written by each person submitting the stories, Ann has taken their stories and re-written them. This allows Ann's unique perspective to shine through each of the stories.
"For The Love Of The Horse Volume IV" really is a book for everyone and a highly suggested read.
http://www.loveofthehorsebook.com
Reviewed by Animal Radio® Dream Team Member Joy Turner, Talk With Your Animals
---


(rated 2 out of 5 paws)
Reiki Fur Babies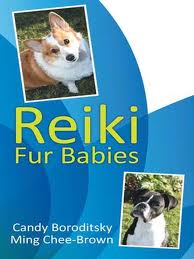 Paperback: 70 pages
Publisher: BalboaPress
ISBN: 978-1452546827
I have read Reiki Fur Babies and I don't know how to review this book. I have found that it needs lots more editing because there are quite a few errors that editing would catch and fix. Also, the way the language is in it, it reads like a translation of Japanese into English (if you understand what I mean by that). There is also not any kind of instruction of how someone might provide Reiki to their fur babies and I would have expected at least something superficial about that from a book with its title. The only somewhat good thing about it is the stories they tell.
http://bookstore.balboapress.com
Reviewed by Animal Radio® Dream Team Member Joy Turner, Talk With Your Animals
---





(rated 5 out of 5 paws)
Do Dogs Dream?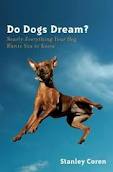 Hardcover: 304 pages
Publisher: W.W. Norton & CO.
ISBN: 978-0393073485
Past works from Stanley Coren have been very scientific and hard for me to understand. But this is quite a departure from his complex works and explains the questions we have about our canine companions in easy to understand bites. Each chapter is only a couple of pages and is a fun read every day for a couple of minutes before I retire for the night.
Coren answers questions like, what colors my dog sees, what she sees on TV, why she rolls in smelly stuff, and of course, does she dream. You'll learn so much about your friend and just how smart he/she really is. Every dog parent will love this and it makes a great gift.
http://books.wwnorton.com/books/index.aspx
Reviewed by Animal Radio® Co-Host Hal Abrams
---



(rated 3 out of 5 paws)
Snort's Special Gift

Hardcover: 32 pages
Publisher: Beaver's Pond Press
ISBN: 978-1-59298-423-7
Dealing with the death of a pet can be hard. Especially when small children are involved. Snort's Special Gift explores several different ways to celebrate the life of a pet that has passed. It is beautifully illustrated and includes activities.
Savy, a young girl, learns that her furry companion is sick. Her parents tell her that Snort will have to go away to heaven. She wonders what she'll do without her best friend.
This book will help your YOUNG child address the feeling and emotions surrounding the grieving process. The words of author Suzanne Yue and the pictures from Lin Wang make this book one that your child will treasure.
Reviewed by Animal Radio® Co-Host Hal Abrams
---



(rated 3 out of 5 paws)
True Blue Leadership by Mr. Blue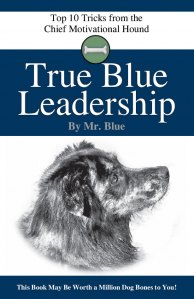 Paperback: 91 pages
Publisher: TremendousLifeBooks.com
ISBN: 978-1-936354-18-4
Mr. Blue provides you with the top 10 tricks from this Chief Motivational Hound. He and his co-pawthor Tracey C. Jones have put together this inspirational book containing the top 10 things you will need to know to become the leader your organization needs and your dog already thinks you are!
Mr. Blue talks about general philosophies in life that serve well whatever your life endeavors may be and provides you with additional references to books where you can find additional information about each point.
Points like work like a dog, learn to get excited about your work, give to get and always look on the bright side, to name a few. You will learn the 3 decisions you must make in life. And, once you make these, all other decisions fall into line. These decisions will shape everything else in your life and drive you. At the core of every point in this book is the fact that enthusiasm does make a difference. Mr. Blue will teach you how you can learn what you want to live your life for and how to follow through with that plan.
Do you know there are certain types of people to surround yourself with to be successful? Mr. Blue does and explains how to accomplish that. He will show you how to relate to people at every phase of your life to get the best you can out of life and enjoy the experience. You will also learn the things to avoid doing and being that short circuit your happiness and success.
True Blue Leadership is a good way to jump start your life.
http://tremendouslifebooks.wordpress.com
Reviewed by Animal Radio® Dream Team Member Joy Turner, Talk With Your Animals

---



(rated 4 out of 5 paws)
Raising My Furry Children by Tracy Ahrens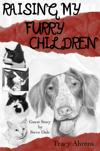 Paperback: 259 pages
Publisher: Weaving Dreams Publishing
ISBN: 978-0-9824876-7-9
Raising My Furry Children is the kind of book every parent of furry children has always wanted to write. Tracy provides us with stories of her beloveds and many of their antics. She does a remarkable job of capturing the essence of mutual love, humor and unbounded joy that comes from watching our furry friends teach us to not take life too seriously.
One of the great things about this book is that it is not written in chronological order so you can pick it up and open to any page to read about her daily anecdotes of pethood that we have all experienced in one way or another. Tracy provides us with a delightful way to relive our own experiences with our beloved companions. Her love and devotion shines through on every page.
If you think your dog's behavior can be outrageous, wait until you read about Speckles and his antics. Speckles can take outrageous to a whole new level. You'll laugh until you cry – and often give thanks that your dogs skipped "that" part dogdom.
Tracy shares her wildest experiences and she shares some of her saddest. You'll love reading about her adventures with each of the wonderful animals she has shared her life with. You might just find that you, too, have learned many of the same things as Tracy living with those wonderful furry family members of yours.
Definitely a good addition to your library and a good book to share with anyone who loves animals.
http://www.weavingdreamspublishing.com/nonfiction/raisingmyfurrychildren.html
Reviewed by Animal Radio® Dream Team Member Joy Turner, Talk With Your Animals

---




(rated 5 out of 5 paws)
In A Dog's Heart – What Our Dogs Need, Want and Deserve – and the Gifts We Can Expect in Return by Jennifer Arnold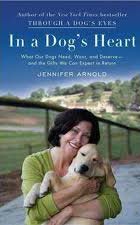 Hardcover: 230 pages
Publisher: Spiegel & Grau
ISBN: 978-0-679-64372-2
Jennifer Arnold sums up just about every aspect of living with dogs in this great book. She discusses dog psychology and behavior and many aspects of the human-animal relationship. Her opening quotation says it all – "Dogs have given us their absolute all. We are the center of their universe. We are the focus of their love and faith and trust. They serve us in return for scraps. It is without a doubt the best deal man has ever made." Roger Caras.
In A Dog's Heart is the perfect book to read to bring out all the best in you as a human and caregiver to your four-legged friends. Jennifer's perspective comes always from "positive training," but it goes far beyond just training. In a world filled with books written about dogs and how to relate to them, In A Dog's Heart stands out from the rest. Some may say she treats the dogs too much like they are human and that can't be right. However, in truth, her idea of the place dogs should belong in our world is so totally right on. Throughout the entire book, her love and devotion to dogs is completely evident and sparks those of us who might not hold dogs in such an elevated place to improve our own thought of the order of life.
Jennifer talks to us about the heart of dogs – and in my personal experience, she is again right on. You'll learn about what dogs want, how to provide your dog with the gift of good health and what makes safe havens for dogs. She'll discuss how to pick your dog. And, most importantly, she shares her ideas on how we can be a better partner to our dogs and how to help our furry partners reach a deeper level of contentment and happiness.
This book goes far beyond anything else I have ever read and definitely is a must read for everyone who shares life with dogs.

http://www.randomhouse.com/spiegelandgrau
Reviewed by Animal Radio® Dream Team Member Joy Turner, Talk With Your Animals

---




(rated 3 and 1/2 out of 5 paws)
Horse Sayings: Wit & Wisdom Straight From The Horse's Mouth by Bradford G. Wheler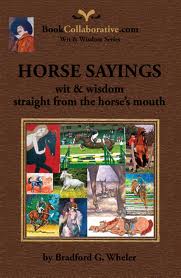 Paperback: 134 pages
Publisher: BookCollaborative.com
ISBN: 978-0982253830
From the simple to the sublime, Horse Sayings depicts all things horse as well as our human fascination for them through art and quotations. The illustrations from artists and photographers from around the world bring forth the power and majesty of the horse. The quotations demonstrate our love, honoring and involvement with horses since the beginning of time. Horse Sayings is a wonderful collaboration of art and philosophy.

Sometimes you'll laugh. Sometimes your heart will expand. Whatever type of art or philosophy you enjoy, whether you are young or old, there is something in Horse Sayings for everyone. This is a book you can pick up and read cover to cover or open to any page and find something inspirational. Any way you choose to read and enjoy Horse Sayings is the perfect way. It's a simple book and a quick read.

And all the time, whether you are a horse lover or a lover of man's eloquence through speech, one thing is certain. This book is a worthwhile addition to your collection.

Reviewed by Animal Radio® Dream Team Member Joy Turner, Talk With Your Animals

---




(rated 5 out of 5 paws)
Rusty -n- Nikki Doggie Lessons in Life and Love by Rusty as told to Janus Moncur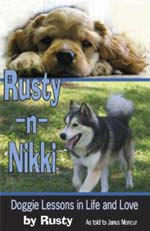 Paperback: 70 pages
Publisher: Mon Coeur Publishing, LLC
ISBN: 978-0978652920
This is an adorable story about Rusty and Nikki and their struggles to find love and their courage to keep their family together.
This story talks about the "Good Ones" which are humans that love and care about animals and the "Mean Ones" humans that are mean and treat animals with cruelty from Rusty, a puppy's point of view.
This story just melted my heart and made me realize how there truly are evil people in this world that pick on poor animals that do nothing but give us their love.
"Sometimes, my little friend, situations present themselves that make even the smallest in stature a hero" I love this part of the book because it is so very true.
If you are an animal lover then this book is a must to read, it is not long at all but has a strong message and I love that part of the proceeds go to animal charities.
http://www.lovepetz.com/rusty-n-nikkibook.com
Reviewed by Animal Radio® listener Nancy Castaneda

---




(rated 3 and 1/2 out of 5 paws)
Down-To-Earth Natural Horse Care by Lisa Ross-Williams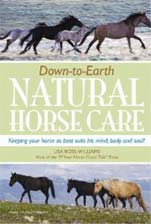 Paperback: 200 pages
Publisher: Talking Horse Publishing; 1st Edition (2010)
ISBN: 978-0982691168
OK, so Cindy (my person) and I had to go for outside help on this one. We examined the book's structure (as Cindy called it) first, however. The chapters range from hydration to natural feeding to hoof care and horsemanship. At the end, there's a chapter on myths, largely about nutrition and care, as well as one that has questions and answers, and finally some stories about horses that Lisa has known. To wrap things up, there's a really extensive resource guide of books, people, websites, and anything else you might need to know about horses and their care.

Now, that looked pretty good to me, and I said that I personally thought I was capable of reviewing the book--after all, I AM pretty smart (emphasis on the PRETTY, there). However, Cindy pointed out to me that I have seen a horse ONCE at my Vet's office, behind a fence, and that I was rather frightened of it (she would have to remind me of my failings). At any rate, I relented, and we appealed to my friend Amanda who works for my favorite dog food company (advertisement, anyone?). She's a former member of the Equestrian Team for our local university, and the only reason she doesn't have horses is that her yard isn't big enough and they don't allow people to have horses in the town. I think that's a bit narrow minded, but that's another issue. At any rate, we gave her the book and asked her to give us her thoughts. They are:
Amanda:

After reviewing "Down-To-Earth Natural Horse Care" by Lisa Ross-Williams I have found the book to be informative and accurate in its depiction of horse care with a holistic twist. The author provides adequate information on all aspects of horse care and addresses common care practices and offers a more holistic option. She addresses everything from basic environmental and feed needs to more detailed veterinarian and dentistry care, where she helps the reader be more informed when dealing with their veterinarian.

Overall a decent book with lots of useful information for caring for horses in a more holistic "back-to-basics" method.


Amanda and Latte (THE Cavalier King Charles Spaniel, just in case you'd forgotten!)

---




(rated 4 out of 5 paws)
Cover Pet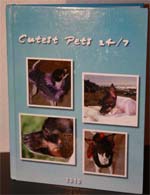 Hardcover: Over 200 pages
Publisher: CoverPet.com LLC
Cover Pet.com can make your pet a cover pet! They did it with Ladybug, the Animal Radio Stunt Dog, which you can see from this book cover.
You just send in 10 photos of your pet and they will emboss them on the covers (front and back) of the Cutest Pets 24/7 Book. If you send in 1 photo, they will use stock photos for the other 9. However, with most pet lovers like me, that wasn't a problem. The problem was narrowing it down to only 10 photos!
I was so excited when I received the book. It is 8 1/2 x 11 inches and has a hard cover. Inside you will find over 200 pages of pet photos, but best of all, your pet is on the front and back!
This is a great book that you will want to leave out on your coffee table for everyone to see, and it will be something you will treasure a long time. It will also make a great gift item for someone special who loves their own pets!
Reviewed by Judy Francis - co-host Animal Radio®
---





(rated 5 out of 5 paws)
Tamar Gellar, 30 Days To A Well Mannered Dog: The Loved Dog Manner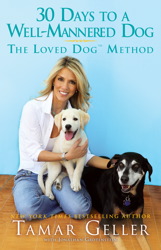 Hardcover: 416 pages
Publisher:Gallery (October 2010)
ISBN:978-1439176702
Oprah's dog trainer, Tamar Geller says you don't have to be dominant; you don't have to teach submissiveness or ingrain fear to get your dog to behave. She is the creator of the wildly successful Gandhi-esque dog philosophy, The Loved Dog Method™. She tells listeners how to empower their dog within 30 days in her new book.
Tamar states that her and Cesar Millan are like oil and water – they don't mix! She doesn't believe that a wife, a husband, a child or even a dog want to be taught while they are being made to be submissive. She believes everyone likes to feel good about themselves, particularly when you want to build a team, where your team player will do anything for you. She feels it makes more sense to realize that when someone is a willing partner, it is a much better approach than to have a team member do something out of fear.
In order to make your dog feel like a willing partner instead of feeling they have to be submissive is the same technique you would use on your husband or your child. You find what makes them happy. You find out what excites them, and you incorporate that into the coaching. It is like empowering them and making it fun for them to learn.
With dogs, Tamar uses games. We know that the best way wolves teach their young and the best way toddlers learn are through games. We also know that the dog is developmentally the closest to a toddler.
Her technique uses "safe words" which she describes as giving words to good experiences. For example, when this abused dog meets someone new and likes them, she repeats the word "friend." This comes in handy when meeting other people, so she can remind him by saying "friend" that this new person is a good person and safe.
We all evaluate life, this includes both people and dogs, according to pleasure and pain. Is meeting someone going to be pleasurable or painful? Dogs who were trained with harsh methods have post-traumatic stress disorders. They think that everything in their life is going to mean pain. They are afraid of taking chances and exploring, because they are afraid they will get screamed at or yanked.
She uses her practice on every breed of dog. She looks at dogs like ice cream. There are many different flavors of ice cream, but no matter what flavor it is, the ice cream was made the same way, with the same ingredients. It doesn't matter what brand or flavor. So whether it is a Chihuahua or a Pit Bull, they have the same basic needs.
To get your dog started with her training, the first thing you need to do is stop saying "Good dog." This doesn't give enough information. You want to treat a dog the way you would treat a toddler. When you work with a toddler, you give a name to everything. For example, if your dog follows your commands, you want to say, "Good sit," "Good come," "Good belly rub." You want to make it a fun learning experience.
You can also use this technique with your children and spouse!
Reviewed by Judy Francis - co-host Animal Radio®
---





(rated 4 and 1/2 out of 5 paws)
Bats Sing, Mice Giggle: The Surprising Science of Animals' Inner Lives by Karen Shanor and Jagmeet Kanwal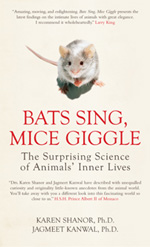 Hardcover: 272 pages
Publisher: Totem Books (August 2010)
ISBN: 978-1848311978
Did you know that chimps have out-scored college students on memory test; birds can see the magnetic lines of the earth; and elephants hear with their toes?
Dr. Karen Shanor and Jagmeet Kanwal expose the astounding animal facts that have recently been discovered, in their new book, Bats Sing, Mice Giggle.
We now know a lot more about animals with the help of current technology, which allows us to pick up the frequencies of animals, their vibrations and sounds that they emit. There is also a lot more behavioral research that has been going on. This has upended everything we ever thought about human nature. We now know that many animals show empathy and take care of each other. They warn and help each other in times of danger. They also problem solve even more effectively than humans – and they build, create and entertain themselves and others.
Many animals can count, including bees. They can also do math. For example, if a herding dog is in charge of 120 sheep, it makes sense that they might have some kind of account going on of some type to make sure that all animals are accounted for.
There are so many facts in this book. We now know that ants are extremely intelligent and can recognize each other; have cemeteries and hospitals; are capable of terrorism; and can even "tag" their enemies by using pheromones.
All of this new information shows us that we really need to listen to the animals!
Reviewed by Judy Francis - co-host Animal Radio®
---





(rated 5 out of 5 paws)
Adventures Among Ants: A Global Safari with a Cast of Trillions by Mark W. Moffett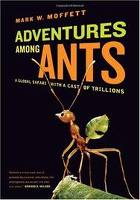 Hardcover: 288 pages
Publisher: University of California Press (May 2010)
ISBN:978-0520261990
Mark Moffett (Dr. Bugs) has been called the "Jane Goodall of Ants" and the "Indiana Jones of Entomology," and he will forever change the way you think about the little critters.
Did you know ant colonies are sisterhoods? Mark states that the guys don't really do much. They have sex and die. And apparently that's satisfactory for them. (I can think of many human males who feel the same way!) Guys really don't have a role in the ant colony. The male ant is sort of a "couch potato" and the female ant doesn't appreciate their presence.
Mark feels that ants and humans are more alike than humans and chimpanzees. Humans and ants are the only ones who have societies of millions. So just like us, ants need highway systems and traffic rules. They even have a voting system, something chimpanzees would never think of.
Marks explorations have helped him to discover new species and ant behavior that make people fall in love with the unexpected in nature.
Reviewed by Judy Francis - co-host Animal Radio®
---





(rated 5 out of 5 paws)
The Lost Dogs: Michael Vick's Dogs and Their Tale of Rescue and Redemption by Jim Gorant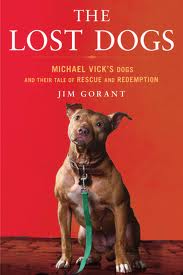 Hardcover: 304 pages
Publisher: Adams Media (August 2010)
ISBN: 978-1592405503
Animal lovers and sports fans were shocked when the story broke about NFL player Michael Vick's brutal dog fighting operation. But what became of the dozens of dogs who survived?
All dogs were originally put into government custody and lingered there for quite some time under the assumption that they all would be euthanized when the trial was done.
However, there was a lot of public outcry to do something to save these dogs. As a result, an ASPCA-led team evaluated each and every one of the 51 Pit Bulls taken off the property. They found a few hardened fighters, but many more lovable, friendly creatures desperate for compassion. These dogs were given a second chance. One of the good things to come out of this case in general for fighting dogs, is that you can't look at them as a group.
Out of the original 51 dogs, two dogs died while they were in government custody. Two were euthanized because one was badly injured and the other had lost it mentally. This left 47 dogs.
The remaining 47 dogs were placed into 4 categories: 1. Sanctuary dogs, which needed a certain level of professional care for life; 2. sanctuary dogs, which needed temporary professional care; 3. foster dogs, which went into foster homes with qualified, pet guardians (most of them have been adopted); and 4. law dogs.
The Million Dollars that Michael Vick was ordered to pay for his restitution and their care made all this possible.
The ultimate success story of these dogs is Leo. Leo went into a small rescue called Our Pack in California. Leo showed a lot of the signs (as the other dogs did) with fear issues and was completely unsocialized. Leo had never lived in a home and had to get used to stairs and other basic things required living in a home.
Leo went into a house that had three other Pit Bulls. The guardian doesn't take all of the credit for Leo's success, as she feels that Leo was able to use her other dogs as a model and the other dogs helped shaped their new entry. Three months later, Leo became a Certified Therapy Dog, going into schools and nursing homes.
Is there a silver lining for fighting dogs surrounding these brutal abuses? Let's hope so!
Reviewed by Judy Francis - co-host Animal Radio®
---






(rated 5 and 1/2 out of 5 paws)
Fixing Freddie: A TRUE story about a Boy, a Single Mom, and the Very Bad Beagle Who Saved Them by Paula Munier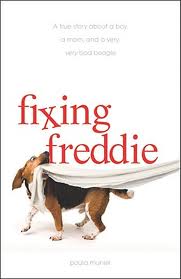 Hardcover: 256 pages
Publisher: Adams Media (August 2010)
ISBN: 978-1440502309
Freddie, the Beagle, was the puppy from hell! Freddie was acquired when Paula Munier made a promise to her son she never thought she would have to fulfill. When she had to 'pay-up' by getting a dog for him, she never expected a very, very bad beagle would soon rule her life.
Paula took her son to a home with puppies where he picked out Freddie. Paula should have been tipped off when Freddie was already six months old and half price! Freddie's rap sheet included pooping in Paula's shoes; peeing on her dates; lunging at the UPS man; and eating all of the knobs off of Paula's new cherry cabinets. Paula seemed to have two adolescents on her hand at one time, both Freddie and her son! Paula thinks of adolescents as a "Five Year Virus."
Freddie was taken to an animal behaviorist (a puppy shrink) who diagnosed him with separation anxiety and fear based aggression. This often happens in homes with single moms because the dog tries to become the alpha. Paula had to turn herself into the alpha, to tame both her son and Freddie.Freddie was kicked out of puppy classes and eventually trained by a private instructor. While Paula wouldn't go so far as to say that Freddie is now a well-behaved dog, he is now a far better dog.
Paula's son is now off to college and she is "stuck" with Freddie. Good thing they are now pals!
This book will have you laughing out loud (lol)!
Reviewed by Judy Francis - co-host Animal Radio®
---



(rated 3 out of 5 paws)
Careers For Your Cat by Ann Dziemianowicz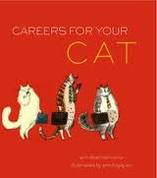 Hardcover: 96 pages
Publisher: Ten Speed Press (August 2010)
ISBN: 978-1580081245
With ever-growing economic pressure being felt in every strata of society, more members of the household are being asked to step up and contribute. Dogs have been assisting the human labor force since the dawn of history by hunting, herding, guiding and guarding us for millennia. But what about cats? What have they been doing between 9 and 5 while we've been out working to support them?
So how do you decide just what career is appropriate for your cat? You can help them by identifying their skill sets with the Meowers-Briggs Personality Quiz that you will find in Careers For Your Cat.
When you find the career appropriate for your cat, what happens next? Well, they need to attend an interview. Ann gives some tips on acing that interview. First of all, don't show up with fish breath; don't sit on the interviewer's lap; and don't play with the objects on the interviewer's desk. And when you first enter the room, you may want to come in normally instead of dashing haphazardly into the room.
So help your cats land their dream jobs and let them bring home the bacon once in a while so you can sit back, relax, and take a well-earned catnap!
Reviewed by Judy Francis - co-host Animal Radio®
---





(rated 5 out of 5 paws)
The Backyard Bird Lover's Ultimate How-To-Guide: More than 200 Easy Ideas and Projects for Attracting and Feeding Your Favorite Birds by Sally Roth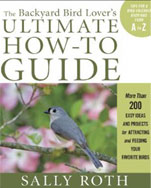 Paperback: 320 pages
Publisher:Rodale Books (July 2010)
ISBN:978-1605295190
Just outside the Animal radio studios there are several hummingbird feeders that are frequently visited by many hummingbirds. Unfortunately, it also attracts other birds that drink their nectar. Fascinating though, we learned in The Backyard bird Lover's Guide that only the Americas have hummingbirds, with California having the largest variety.
Many people like to bird watch and one of the best places to view them can be in your own backyard. But how do you attract them? Sally Roth explains the best feeders and birdhouses you can make and buy to attract certain birds. She states that wood is the best for a birdhouse, because it is the best insulator for both heat and cold and your birds will stay safe and comfortable. Also look at the size of the hole. Purchase one with a small hole for wrens and chickadees; medium for nuthatches and downy woodpeckers; and large for everything else. You don't need to put anything inside, as the birds will fill it up themselves.
In her new book, The Backyard Bird Lover's Guide, Sally has outlined just what type of foods and feeders and plants and projects that will guarantee a bird-friendly backyard!
Reviewed by Judy Francis - co-host Animal Radio®
---





(rated 4 and 1/2 out of 5 paws)
A Man For All Species: The Remarkable Adventures of an Animal Lover and Expert Pet Keeper by Marc Morrone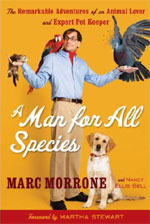 Hardcover: 288 pages
Publisher: Crown (April 2010)
ISBN: 978-0307589651
Before Martha Stewart named him her "pet keeper," and before millions of people turned to him for advice, Marc Morrone had a simple dream: to learn everything he possibly could about every kind of animal and share that knowledge with others.
As a child, he dreamed about owning a zoo. But since that seemed too impractical as he grew up, Morrone did the next best thing and opened his own pet store, Parrots of the World, which he calls his laboratory. Along with parrots, you will find many other animals such as ferrets, hedgehogs, sugar gliders and pygmy possums to name a few.
Morrone hosted his own TV show called Petkeeping with Marc Morrone. One of the most fascinating aspects of his show was how he could have all of the animals together and everyone got along.
In Morrone's new book, A Man for All Species, Morrone covers his early childhood petkeeing to his current days in his pet store. You will easily see how passionate Morrone is about all animals!
Reviewed by Judy Francis - co-host Animal Radio®
---




(rated 4 out of 5 paws)
The Animal Review: The Genius, Mediocrity, and Breathtaking Stupidity That Is Nature by Jacob Lentz & Steve Nash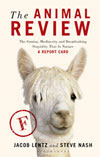 Hardcover: 144 pages
Publisher: Bloomsbury USA (March 2010)
ISBN: 978-1608190256
People judge other people, but Jacob Lentz and Steve Nash judge the animals! They have graded animals like a report card. They do this by finding an animal species, talking about them and then using a scientific and aesthetic standpoint, finally giving them a grade.
Some of the animals they rated are the Alpaca, Ladybug, Skunk, Great White Shark, King Cobra and the Panda.
They seem to be highly qualified to do this, as they have the Internet and they are two single guys with too much time on their hands! They could explain their criteria, but it is proprietary and better if left to them. They feel people should just trust their judgments!
We noticed Jacob and Steve have stayed away from rating cats and dogs – perhaps they feel people have a tendency to go crazy about their pets!
Reviewed by Judy Francis - co-host Animal Radio®
---





(rated 5 out of 5 paws)
Beekeeping for Dummies by Howland Blackiston

Paperback: 392 pages
Publisher: For Dummies (March 2009)
ISBN: 978-0470430651
Beekeeping is not only a hobby for some people but also a way to make extra money during these hard economic times. It isn't just a matter of the bees marking your garden prettier, a third of everything we put into our mouths is a result of pollination by honeybees.
In Beekeeping for Dummies, you will learn everything you need to start your own beehive colony including honey bee medication and treatments, harvesting and marketing your honey.
You don't need a lot of space to raise bees, and can even do it in the city. It is also not that labor intensive. You only need to visit the hives about four or five times a year, for about 20 to 30 minutes each visit.
It is not expensive to raise honeybees. For several hundred dollars you can buy the hive and equipment that you need to get started, which is a one-time expense. But consider this, every hive that you start will yield from 60 to 100 pounds of honey – what are you waiting for?
Reviewed by Judy Francis - co-host Animal Radio®
---





(rated 5 out of 5 paws)
Orphans of Katrina by Karen O'Toole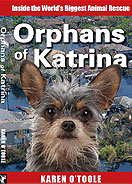 Paperback: 256 pages
Publisher: Give a Dog a Bone Press (July 2010)
ISBN: 978-0615329161
OK, I'll admit that I wasn't overly thrilled about reading this book, even after my person explained to me what it was. You know, that was YEARS before I was born (all right, three). However, as soon as we read the first chapter, I was hooked. Karen tells the story of the suffering of all types of animals in the aftermath of that terrible hurricane. Now, I'm not exactly sure what a hurricane is, especially since we only get rain about every three months up here. Wind, I understand, but rain--that's a bit out of my league. But I digress.

Karen O'Toole was one of many volunteers who traveled in boats and on foot around the remains of New Orleans neighborhoods to rescue pets who had been abandoned by their owners in the mass confusion of wind, rain, and floods that was Katrina. I was amazed to learn that many people were not allowed to take their pets with them. As we read story after story, I became more frightened just thinking about those poor creatures who were starving or swimming in the muck left by dirt and sewers and dead bodies--thank heaven for people like Karen!

Keeping in mind that Cindy hates "sad animal stories," I think she was a bit reticent to read as well, but she found the heroism of both the rescuers and the rescued enlightening. We had watched the Animal Planet specials, but even with pictures, there's no way that those measured up to Karen's passionate descriptions of the hell she encountered. From frightened cats who scratched or bit her to severe cuts from the glass of windows, she and others doggedly (love that word!) pushed themselves beyond the endurance of most humans to save as many lives as they could.

Periodically, she includes a plea for everyone to protect our pets, donate to shelters, adopt an animal, and so forth. Coming from someone who has experienced what she has, these pieces are not "advertisements" or pathos-laden community service announcements; instead, they are the call to action from the expert who has held a dying animal in her arms and who has met the distraught owners searching in vain for their friends. Fortunately for society, one glimmer of hope has emerged from the darkness of a flooded New Orleans--laws which allow evacuees to take their pets rather than leaving them on the streets at the mercy of Mother Nature.

At the end of this beautiful book may be the best chapter of all--a list of things that everyone can do for animals every day. These include websites, organizations, common sense donations (we'd never thought of donating a bag of kitty litter to our local shelter), and tips for spotting puppy mills.

While I thank God that I'm such a lucky dog, after reading this, I know one thing: this is one book that no animal (or animal lover) should miss.

Reviewed by Latte Rogers
THE Cavalier King Charles Spaniel
---




(rated 4 out of 5 paws)
Secrets of a Working Dog by Patrick and Ellen Galvin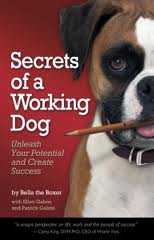 Paperback: 192 pages
Publisher: Joseph Rudolph Publishers
ISBN: 978-0982868034
This husband and wife team have tapped on a fundamental lesson. Dogs are great teachers and can impart valuable wisdom in just about every part of our lives. By applying a dog's tactic to our own lives, we can take a journey of self-discovery that will propel us, compel us, and ultimately result in more successful encounters in work and in our personal path. As the book cover says, "Bella the Boxer" will indeed help you connect with your "inner dog" and step up as the leader of the pack. Those with dogs will immediately understand how they can use the dog as a teacher. Those without may be encouraged to get one - let this be your handbook.
Reviewed by Hal Abrams
---





(rated 5 out of 5 paws)
Bill At Rainbow Bridge by Dan Carrison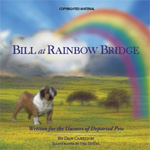 Paperback: 90 pages
Publisher: Modern Family Classics Publishing
ISBN: 978-0984568208
"Just this side of heaven is a place called Rainbow Bridge." (31) Now I know what happens to all good dogs . . .

Take a trip with Bill through the Elysian Fields of dogdom and with his person, David, as he struggles to deal with the loss of his best friend in this short work by Dan Carrison. Dan offers to both pet and person a bit of hope and a lot of comfort about the too brief life of every creature who walks this earth, and he manages to deal with the heartbreaking subject of loss in an entertaining and poignant way.
I loved the brief chapters which allowed me to take frequent breaks for ball chases or cookie begging (all too often ignored, however). When Dan alternates chapters from Bill's perspective to David's, it sometimes confused me, but my person patiently reminded me what had happened to Bill in the earlier chapters, so I was OK after that. She (Cindy, my person) says that technique has a name, but of course I've forgotten what she said.

As Cindy read the story, she said she wondered if her father had crossed Rainbow Bridge with his favorite cat (which he had when he was young) or the family Pekingese, Taffy, (which was Cindy's dog when she was young). I never knew her father, for he died just before I was born, but he sounded like a loving man much like David in the story. It was nice for Cindy to contemplate that possibility.

This story introduces all sorts of people with different animal friends--parrots, cats, dogs--and even follows one journey to a joyous reunion. Sometimes sad, sometimes humorous, always thought-provoking, it is a quick but unforgettable book that no pet lover should be without.

So, follow Bill to the grass outside Rainbow Bridge and contemplate what awaits him when he and David meet again.

Reviewed by Latte Rogers
THE Cavalier King Charles Spaniel
---




(rated 4 out of 5 paws)
The Opal Within Us: Speaker of the Souls by Robynn McCann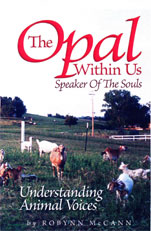 Paperback: 192 pages
Publisher: Elephantsdance Publishing
ISBN:978-0-9842100-0-8
This was a really fun book that both my person and I enjoyed. It's a series of stories about the various animals that Robynn and her family have kept over the years. Some stories are very short, but even the longer ones are short enough that they held my attention. (I tend to have a short attention span) The focus story is about a goat named Opal and what she seemed to teach the family during her rather short journey on earth. However, I also got to know Reggie, the Jack Russell Terrier; Jack, the Llama; Pepper, the German short-hair; and many, many goats. Now, since I live in the city, my people had to explain to me what a goat was, but I have met a llama at the vet's office (it's a rural city).

Cindy, my person, hates sad animal stories (she claims she's never gotten over Old Yeller, whatever that is), but she says that while there are many deaths in these stories, Robynn tells them in such a way that they're not sad, only poignant (she had to explain that one to me, too). In fact, she compares the stories to those of another favorite author of hers, James Herriot. She also likes the additions of statements and poems by Robynn's daughter, Ahrynn. My favorite parts were the ones where the animals actually told their stories themselves. Being a particularly bright dog, I know that all animals are capable of good writing. It's nice to see that someone else agrees with that!

While some might not agree with Robyn's take on the ability of animals to communicate spiritually, everyone should enjoy her upbeat stories about what she has learned from her friends in the animal community. As a dog, it is particularly comforting to think about what might await me in the afterlife. All pet owners should share this book with their four-legged friends and thus gain an understanding that their own "Opal" has much to tell them.
Reviewed by Latte Rogers
THE Cavalier King Charles Spaniel
---
---
Listen to these authors on Animal Radio®
Send review copies and comments to: Animal Radio Book Club Reviews, 699 Paula St, Morro Bay, CA. 93442. Call 805-772-1314 to arrange author interviews for an Animal Radio segment.

---
Close Window